Master Chefs at Wein am Berg 2023
THE BEST OF 20 YEARS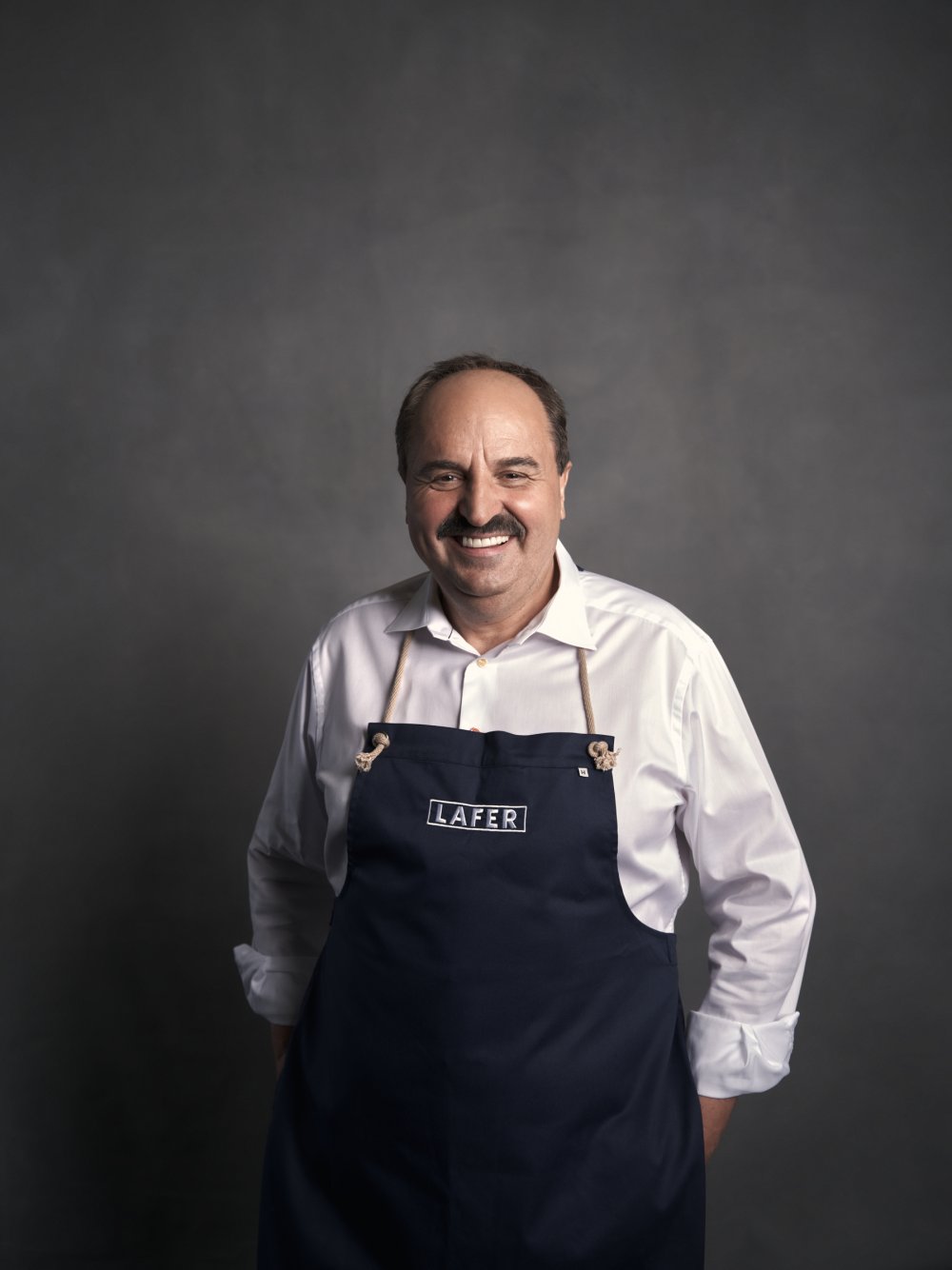 TV CHEF, GOURMET AMBASSADOR & BEST SELLING AUTHOR
Johann Lafer
Johann Lafer completed his culinary training in Graz before working as head pâtissier at the "Schweizer Stuben" and being named "Germany's Best Pâtissier". In 1983 he became head chef at the restaurant "Val d'Or" and cooked his second Michelin star in 1987. After winning numerous awards, he was appointed to the University of Applied Sciences in Fulda in 2009 and was given a lectureship in Culinary Arts, Food Culture and Cookery. He retired from Stromburg in May 2019 to continue his journey of enjoyment with other projects, including "back to the roots" and "medical cuisine". Lafer is still active on TV, develops cookbooks, runs a cooking school and has many other projects in the pipeline.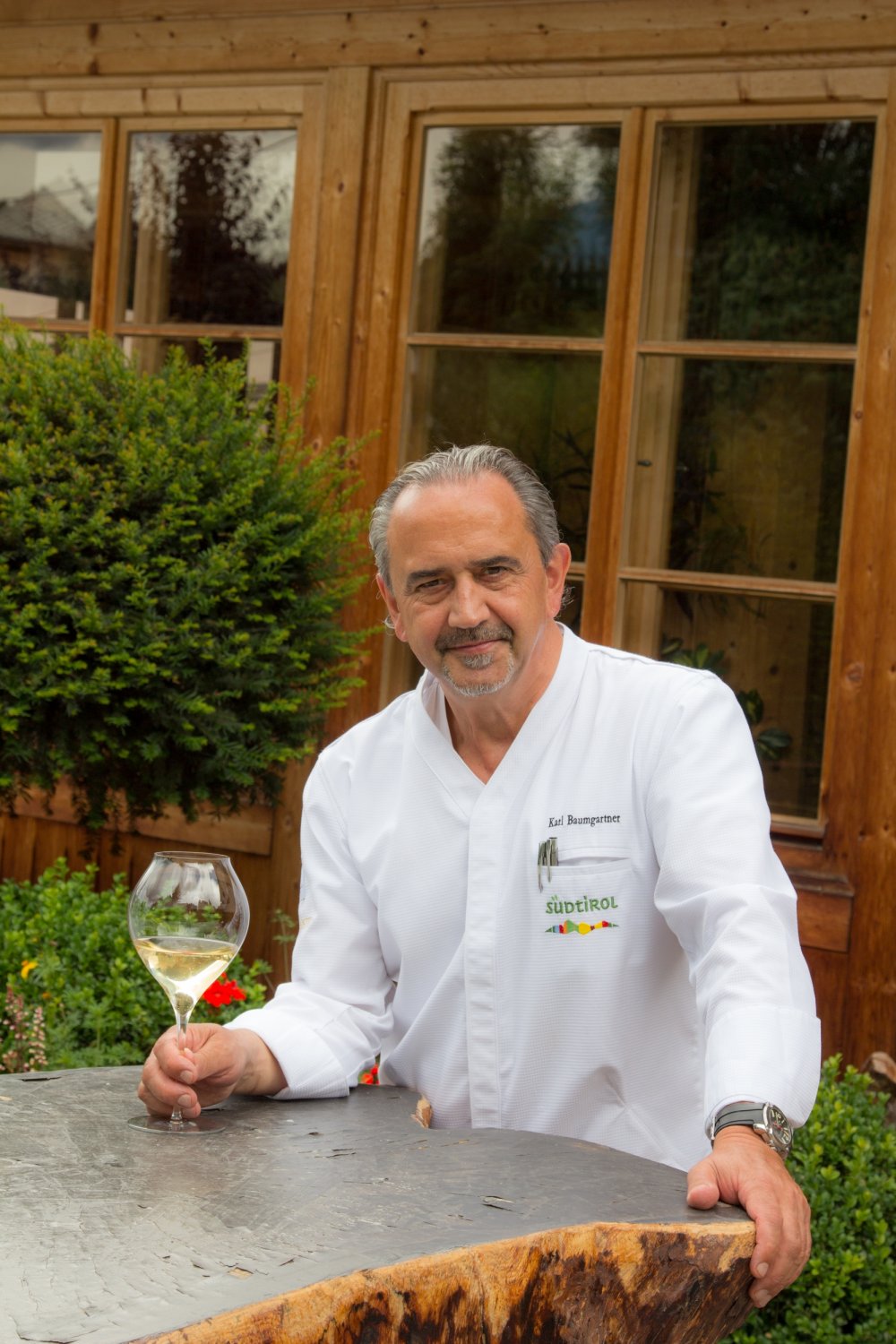 RESTAURANT SCHÖNECK I SOUTH TYROL I ITALY
Karl Baumgartner
Karl Baumgartner with his Restaurant Schöneck is considered one of the best chefs in South Tyrol, and rightly so. In his comfortable, almost informal restaurant, culinary history has been written for more than 30 years. With ingredients fresh from the market he succeeds in creating new regional dishes with an Italian Mediterranean influence time and again, which delight gourmet lovers.
1 Michelin star
3 toques from Gault&Millau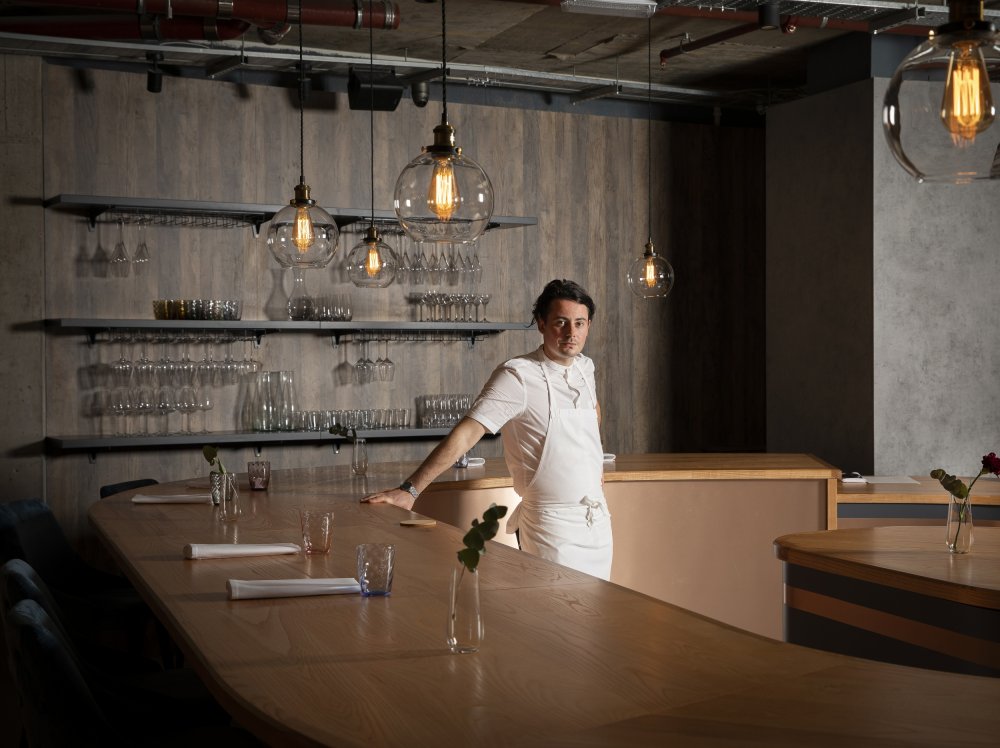 RESTAURANT BEHIND | LONDON
Andy Beynon
East London isn't short of fabulous places to eat, but a restaurant that wins its first Michelin star within 20 days of trading, and furthermore maintains it the following year, must be something truly special. Owner and Head Chef, Andy Beynon, opened Behind in October 2020 in London Fields, a risky time to open your first venture, but the quality and story of Behind made it a standout destination from the get-go. Andy Beynon trained under some of the country's very best chefs. With a passion for celebrating the finest produce available on the British coast, Andy's menus are fish-focussed, seasonal and highly innovative. Wine pairings range from classic Chablis to new world Grenache.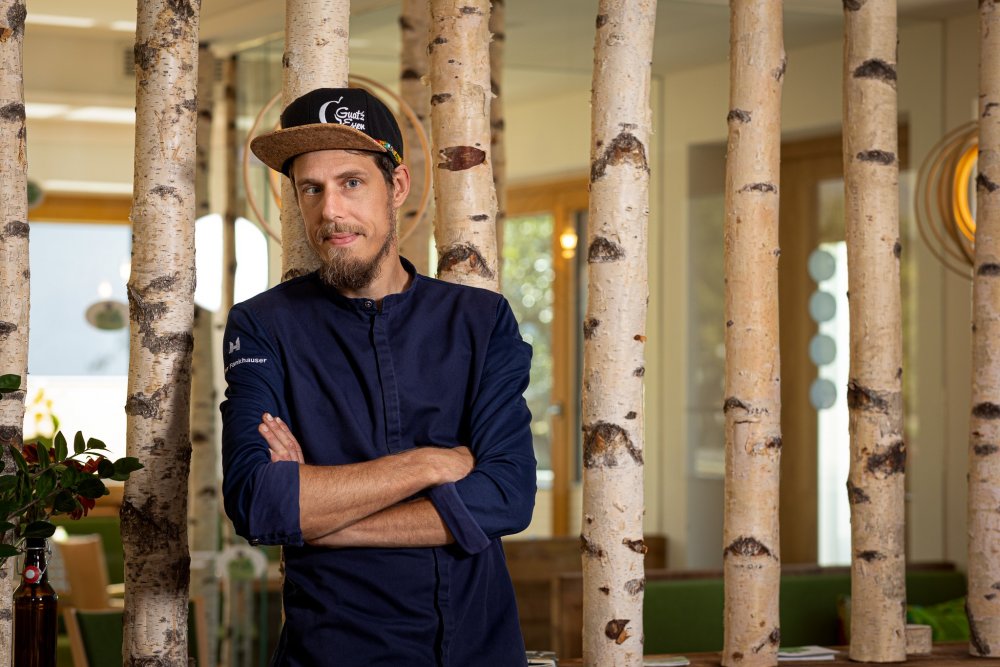 RESTAURANT GUAT´Z ESSEN I STUMM | AUSTRIA
Peter Fankhauser
Peter Fankhauser uses only regional products and those from his own "permaculture cultivation" and creates exquisite dishes from them. The Zillertal native discovered his great passion for cooking at the age of 14. He has already worked in the USA and in the best restaurants in Austria. In 2018, Peter Fankhauser fulfilled his dream and opened the first vegetarian-vegan restaurant in the Zillertal. The award-winning chef makes no compromises and consequently avoids industrial products.
3 toques from Gault&Millau
Sustainability Award 2023 "Der Große Guide"
Vitalpin KLIMAINVESTMENT award 2021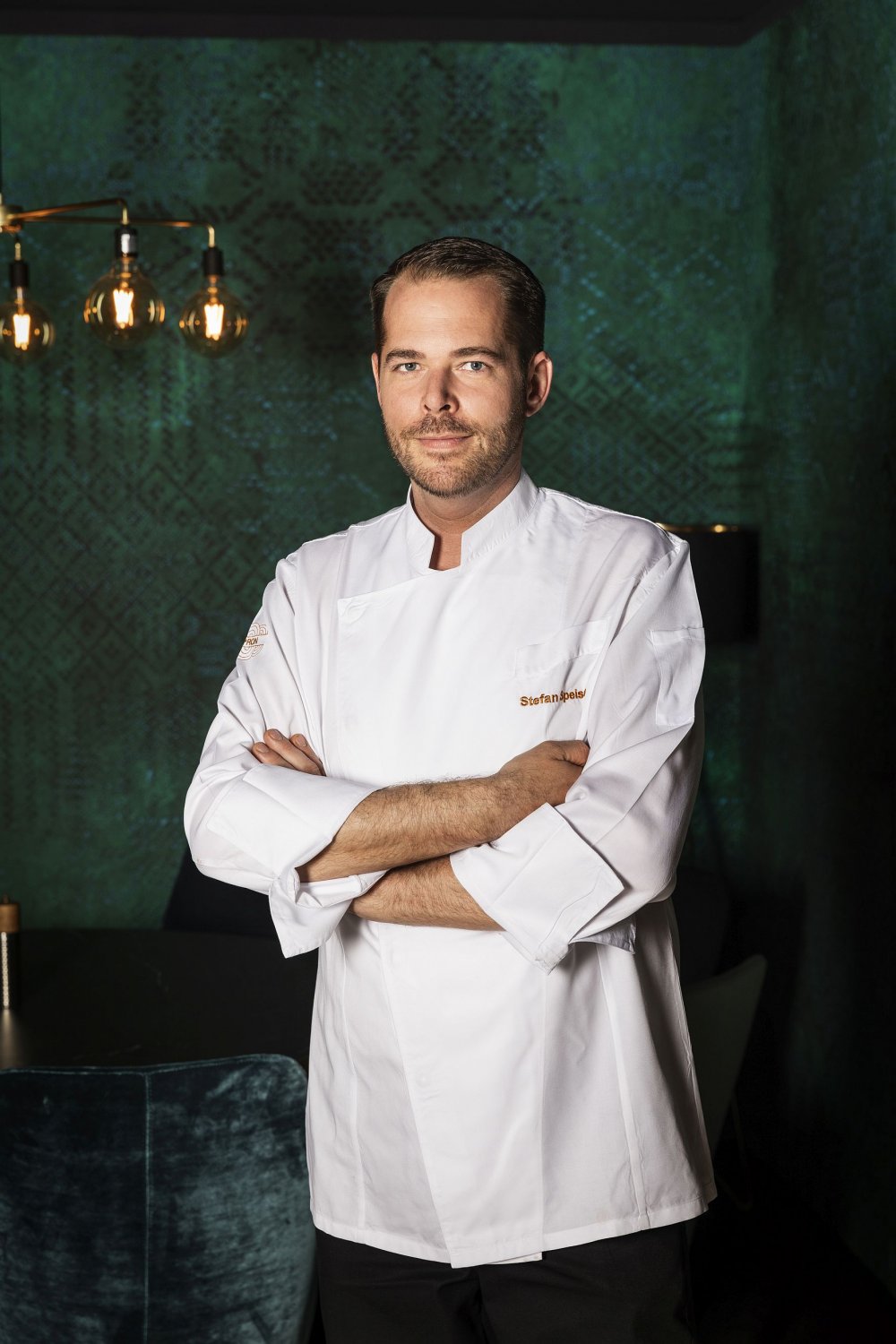 RESTAURANT APRON I VIENNA | AUSTRIA
Stefan Speiser
In the Apron restaurant, top chef Stefan Speiser delights with modern interpretations of Austrian cuisine. Contrasts and unusual flavours set surprising accents in every dish. Seasonal as well as local ingredients are prepared, processed and served with passion. The focus is on the preparation of authentic and timeless dishes. The credo: honest cuisine is important, because what is on the menu is what the guest should see and taste. The open show kitchen offers exclusive insights into what happens in the kitchen.
1 Michelin Star
4 toques from Gault&Millau
90 Falstaff points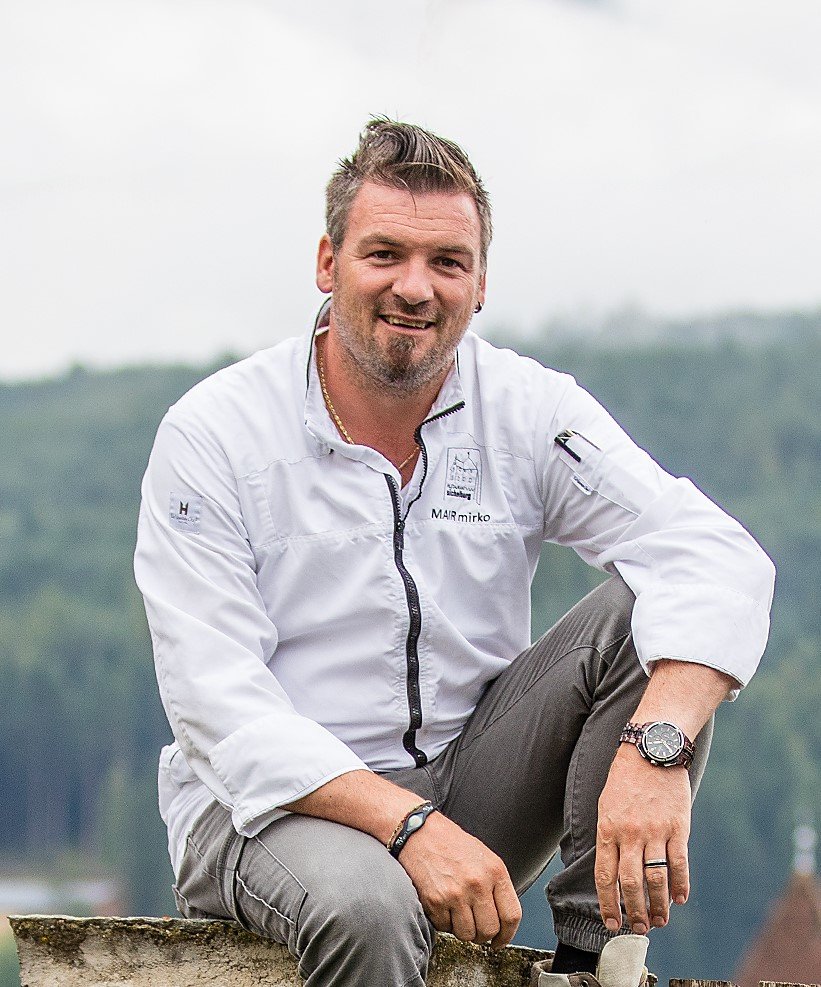 RESTAURANT SICHELBURG I PFALZEN | ITALY
Mirko Mair
A visit to Ansitz Sichelburg is a combination of pleasure and history. In the magnificently paneled parlors and the impressive vaults, you will experience contemporary culinary art in a historical ambiance. Mirko Mair cooks fresh, cosmopolitan, and with great taste. The emphasis is not only on perfection and craftsmanship but also on respect for the product, which should be refined in the best possible way. The top priority: The food must be sensual – an inspiration for gourmets. Since April 2023, Mirko Mair has also been running the stylish Tower Garden restaurant with a green rooftop terrace directly at the Brixen/Vahrn highway exit.
2 toques from Gault&Millau
91 Falstaff points
Historic restaurant of South Tyrol 2023 – "Die besondere Auszeichnung"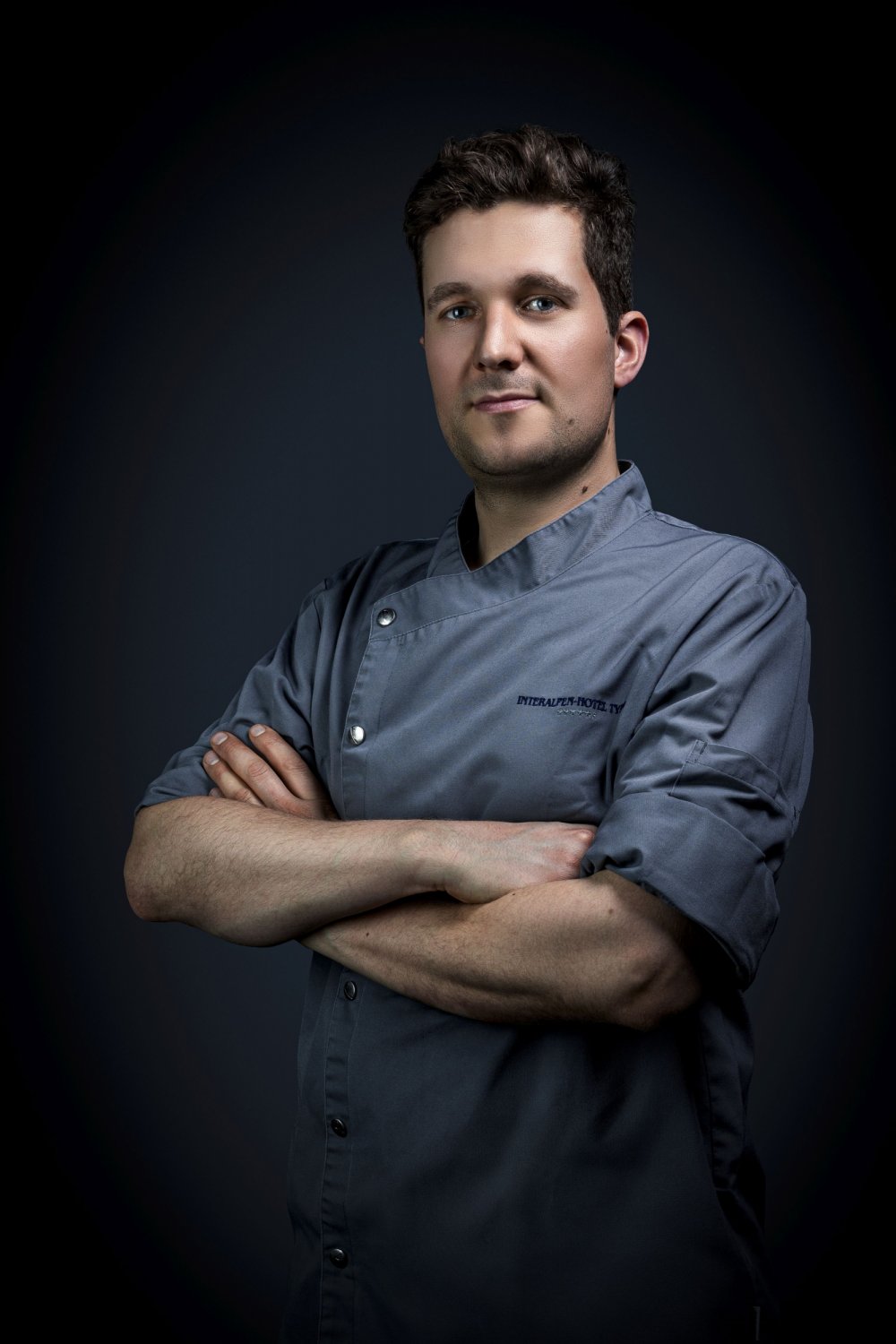 INTERALPEN-HOTEL TYROL | TELFS | AUSTRIA
Michael Hollaus
Michael Hollaus is one of the top pâtissiers and was awarded "Pâtissier of the Year 2021" by Gault&Millau Austria. He conquers the hearts of gourmets with his creations, combining down-to-earthness and simplicity with a certain finesse. Michael Hollaus has already worked in numerous renowned hotels and restaurants. From 2012 to 2014, he worked at Hotel Das Central in Sölden as head pâtissier. After further stations, he returned to the Interalpen-Hotel Tyrol in 2018.
Austrian Pâtissier of the Year – Gault&Millau 2021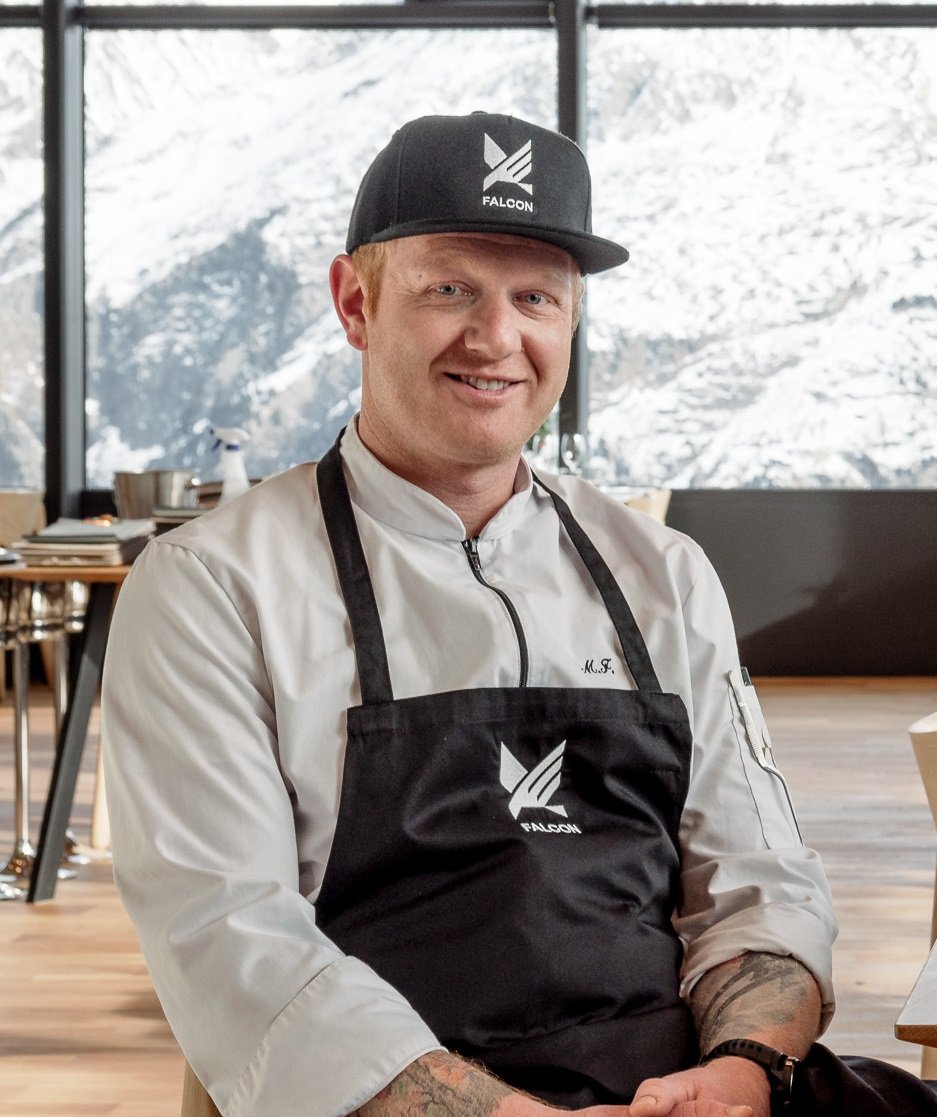 FALCON RESTAURANT I SÖLDEN | AUSTRIA
Manuel Fiegl
Chef Manuel Fiegl from Sölden delights locals and guests from all over the world with his regionally interpreted dishes in our FALCON restaurant at the Gaislachkogl middle station. A culinary experience paired with a good portion of creativity. The architecture is equally fascinating: bright, high rooms with large panoramic glass surfaces create a special ambience in which the Ötztal mountains virtually take their place at the dining table.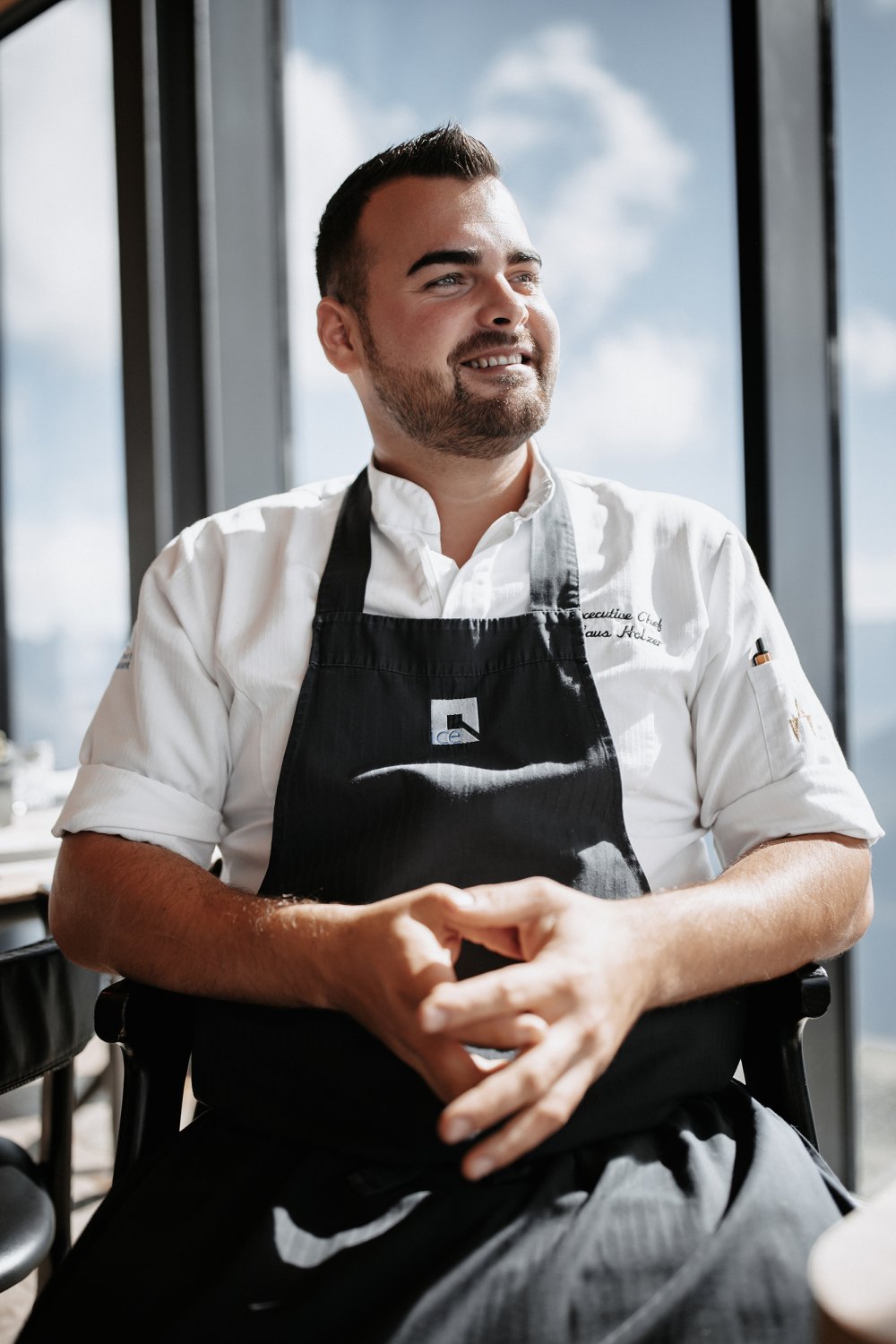 RESTAURANT ice Q I SÖLDEN | AUSTRIA
Klaus Holzer
Klaus Holzer is in charge of the culinary delicacies in our ice Q Restaurant – awarded with 2 toques from Gault&Millau. The ice Q is located at over 3,048 m above sea level and already impressed as the unique shooting location in the James Bond blockbuster SPECTER. Klaus Holzer's passion for Alpine Cuisine is reflected in the individual dishes, making the ice Q restaurant the culinary hotspot in the Alps.
2 toques from Gault&Millau
90 Falstaff points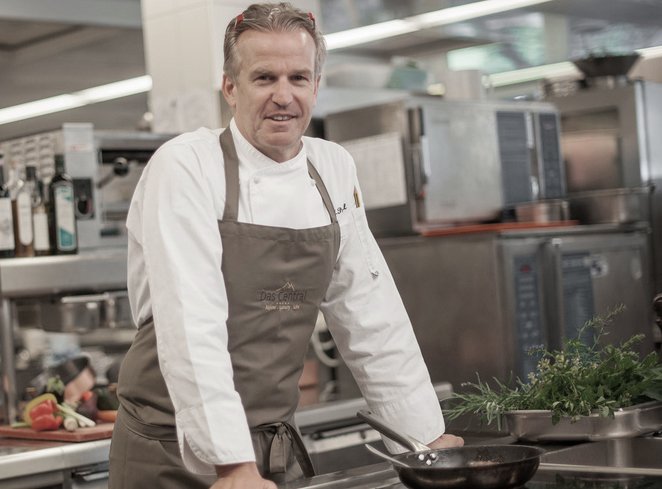 FORMER CHEF DE CUISINE DAS CENTRAL
Gottfried Prantl
Gottfried Prantl has been the head chef here with us in the 5-star hotel DAS CENTRAL in Sölden for 30 years. In April 2018, he took his well-deserved retirement. We are delighted that we will once again be welcoming Gottfried at Wein am Berg 2023, as a guest chef and are already looking forward to his delicious culinary treats.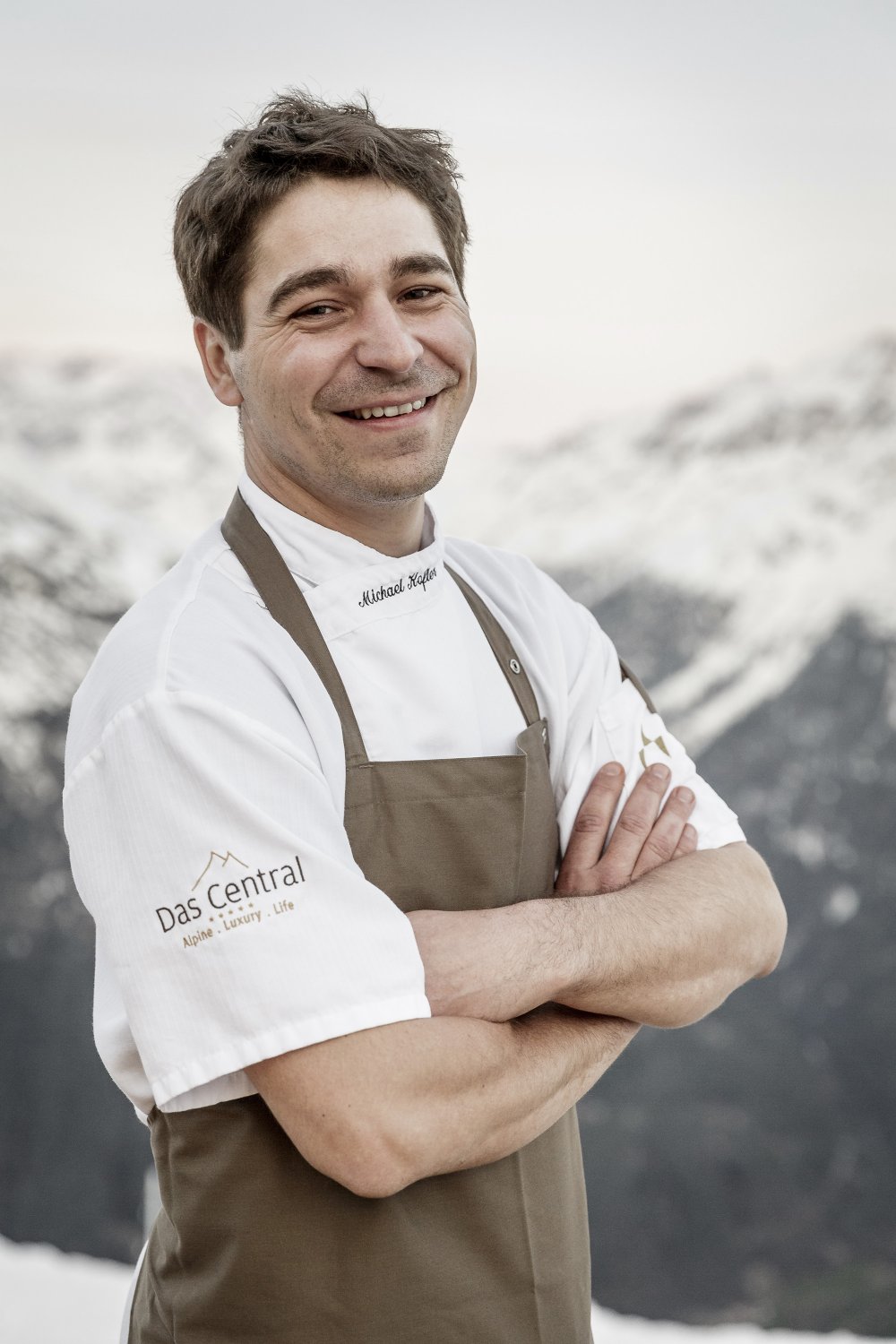 DAS CENTRAL I SÖLDEN | AUSTRIA
Michael Kofler
Tyrolean Michael Kofler has been part of our kitchen team since 2010 and since spring 2018 he has been responsible for the culinary creations at Hotel Das Central. Together with his sous chefs Sandro Falkner and Christof Hochfilzer, Michael Kofler lives the passion for high-quality, regional products and processes them into creative culinary compositions.
3 toques from Gault&Millau
92 Falstaff points
91 points à la carte Guide


Indulgence at Wein am Berg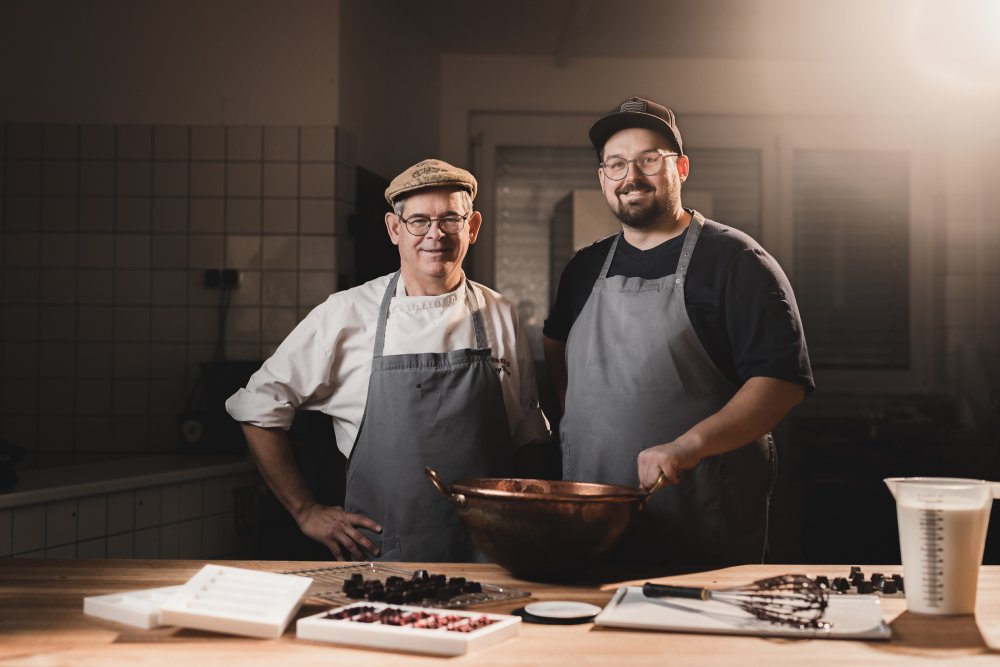 TIROLER EDLE* CHOCOLATE
Schoko-Laden Haag

Hansjörg Haag uses only excellent raw cocoa couvertures and creates exquisite chocolate products from them with skilled craftsmanship. He has initiated his son Christoph into the secrets of the chocolatiers. Christoph gratefully adopts this knowledge and, as a qualified chef and enthusiastic gourmet, contributes to the further development of the chocolates and pralines. In 2001, Hansjörg Haag started the "Tiroler Edle*" project together with agricultural economist Therese Fiegl, which is now known far beyond the borders of Tyrol.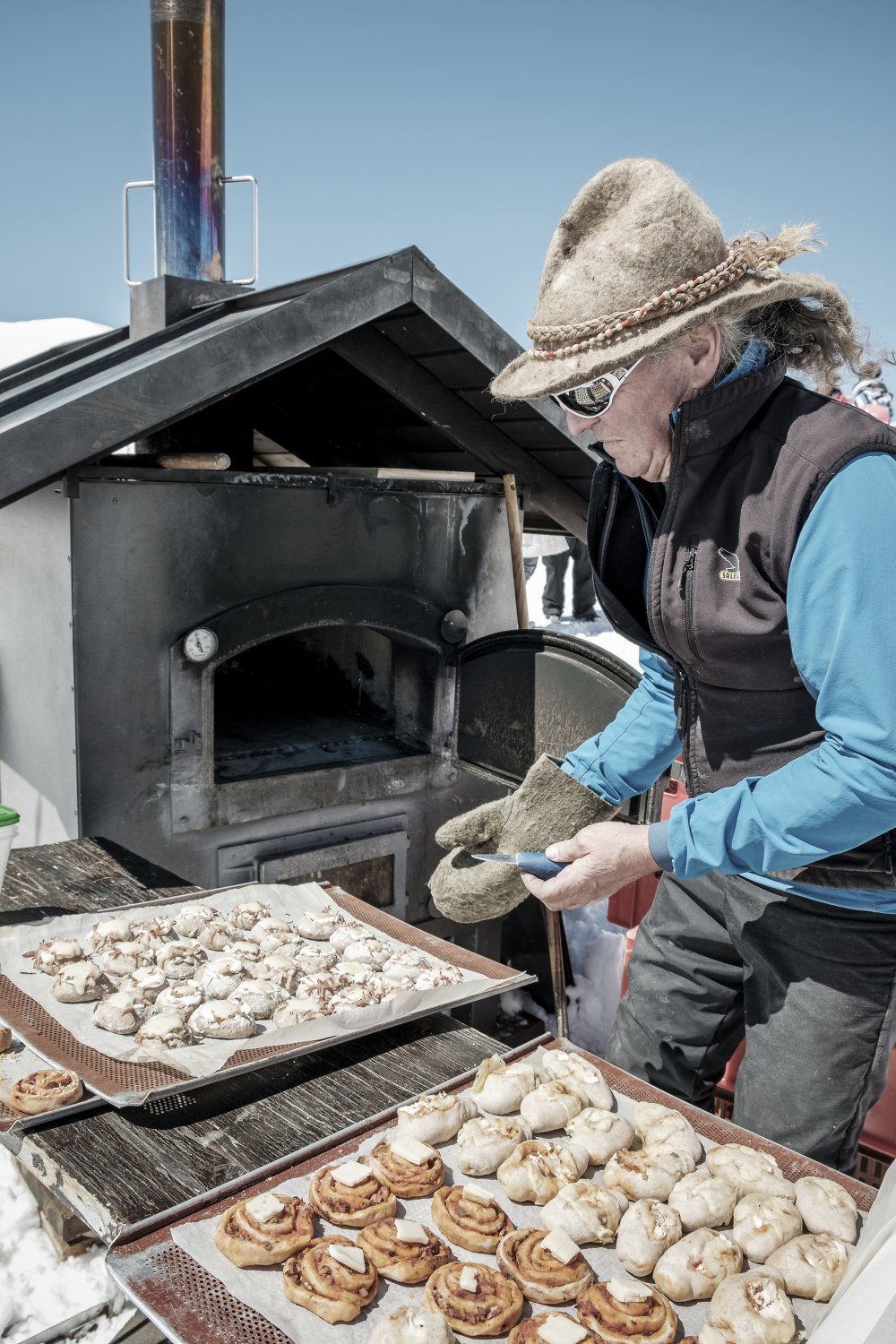 GRINS | TYROL | AUSTRIA
Norbert Ruetz - oven virtuoso
Tyrolean master baker Norbert Ruetz is known as the legendary "wood-fired oven virtuoso", indeed that is how he made his name. For him, each satisfying day starts with healthy bread. And when every day is fulfilled, then nothing stands in the way of enjoying a fulfilling life. With his mobile wood-fired oven he will once again indulge us with his wonderful speciality breads at our 20th Wein am Berg event on the glacier, at 3000m altitude.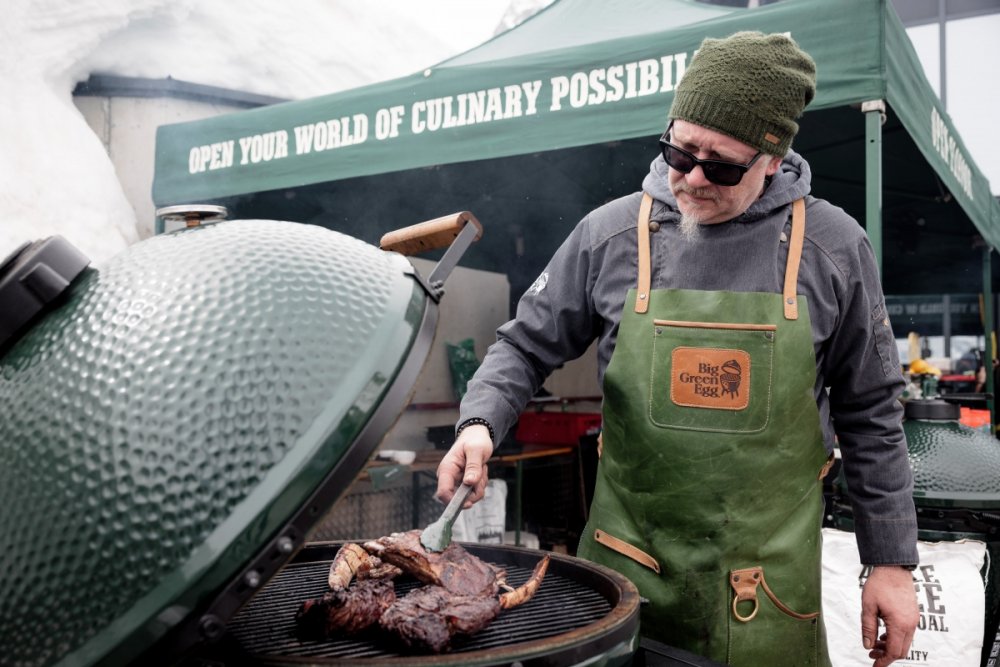 THE ORIGINAL SINCE 1974
Big Green Egg

Baking pizza or bread, just as in a stone oven, grilling, smoking, authentic barbecuing, low cooking, or braising – no problem for the Big Green Egg. Due to its versatility, reliability and superior quality, the Big Green Egg has become an indispensable part of the high-end catering industry. Its manufacturers have been working with the best chefs around the globe for decades. Celebrity culinarians such as Sergio Hermann, Jonnie Boer and Christian Bau continue to rely on the world's most versatile grill.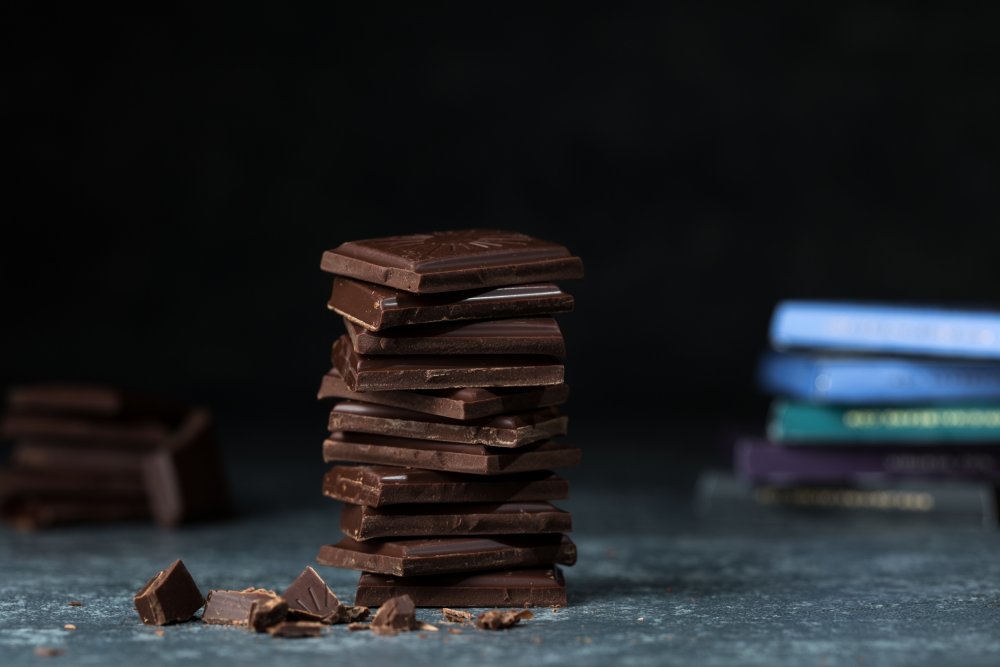 PREMIUM CHOCOLATE
Original Beans

They seek out the rarest and fairest cocoa in the world and process them into the highest quality chocolate. Cocoa farmers receive training, equipment and – through direct sales – fair prices for their rare beans. Thanks to consistent regenerative agroforestry and climate-optimised production – including compostable packaging – Original Beans is the world's first and only climate-positive chocolate. Original Beans' products have won numerous food and chocolate awards and are loved by chocolate lovers, including the international who's who of top chefs and confectioners.