Master Chefs at Wein am Berg 2018
AUSTRIA MEETS GREAT BRITAIN
When the best chefs from Austria and Great Britain come together in Sölden for a culinary summit meeting, then something big is in the offing. Award-winning chefs will once again provide an orchestra of pleasure at this year's Wein am Berg event – the best known gourmet festival in Austria – outdoing one another. Enjoy the utmost in indulgence together with us at the Wein am Berg event from 19.-22.04.2018.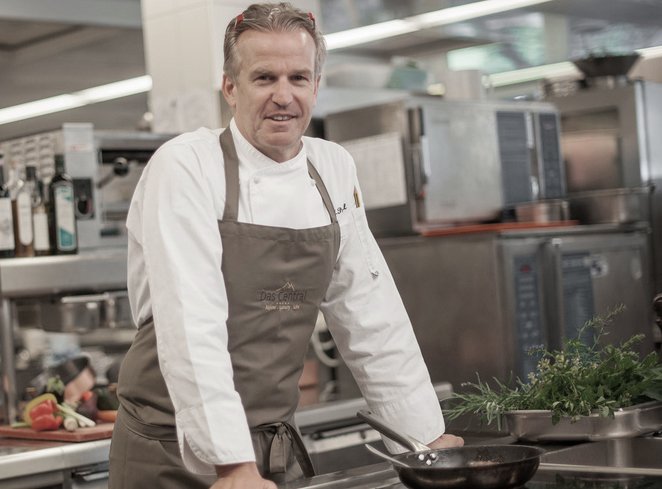 DAS CENTRAL - ALPINE . LUXURY . LIFE / SÖLDEN
Gottfried Prantl
Gottfried Prantl has been Head Chef here with us in the 5-star hotel DAS CENTRAL in Sölden since 1988 and each and every day he inspires our guests afresh, from first thing in the morning to late into the evening. He is known way beyond the borders of Tyrol for using Alpine & local produce and reveals his passion in every single dish. The many awards are indicative of the high quality of his food.
Ötztaler Stube

2 toques (15 points) from Gault Millau
"Toque d'Honneur" – eternal toque by Gault Millau
93 points à la carte Guide




POLLEN STREET SOCIAL I LONDON (UK)
Jason Atherton
Jason Atherton was the first British chef to complete a stage at Spain's famous elBulli restaurant in 1998. This experience laid the foundation for his unique creative style and fuelled his insatiable thirst for culinary knowledge. In 2001 he joined the Gorden Ramsay Group, where he opened in 2005 the restaurant Maze in the heart of London. Jason left Gordon Ramsay in 2010 to launch his own restaurant company. His flagship restaurant 'Pollen Street Social' was awarded a Michelin star within just six months of opening. Since then, Jason's 'The Social Company' has grown into a globally renowned restaurant group. He has also opened critically-acclaimed restaurants in Hong Kong, Shanghai, Dubai, Cebu and Sydney, and was recently awarded another Michelin Star at The Clocktower restaurant in New York.
Pollen Street Social

1 Michelin star
no.4 in "The Good Food Guide's best UK restaurants"
5 AA Rosettes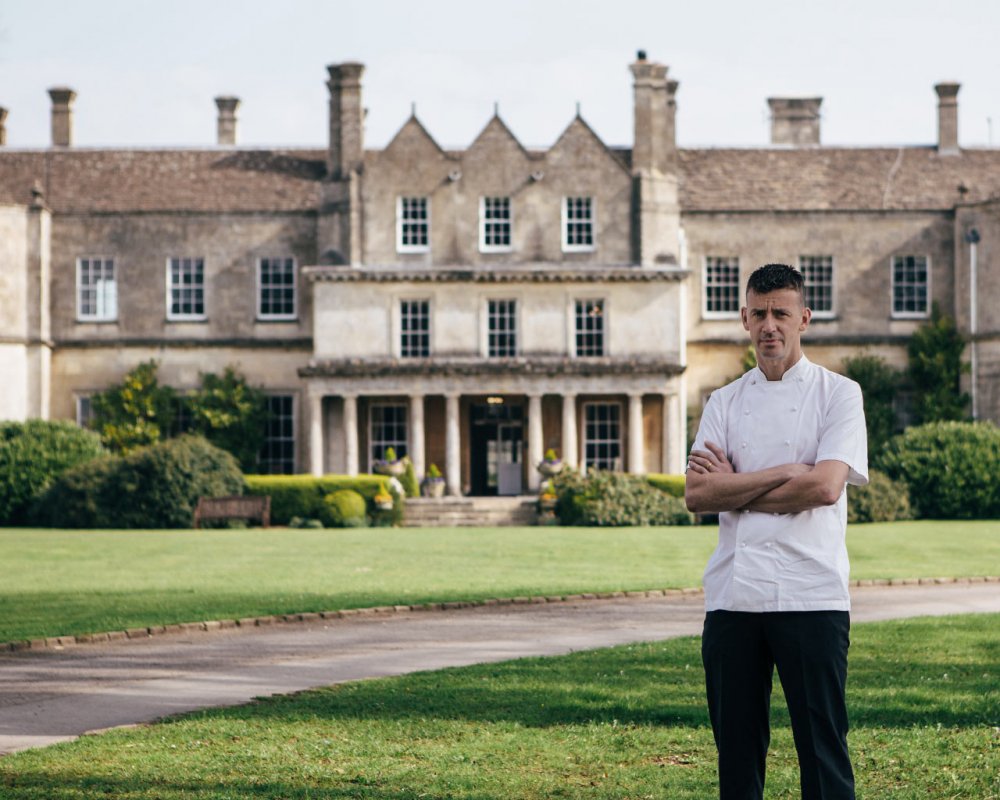 RESTAURANT HYWEL JONES BY LUCKNAM PARK / COLERNE (GB)
Hywel Jones
Very special culinary ease. Exacting attention on seasonality and provenance. The quality of the produce and the enthusiasm which drives Hywel Jones and his team, forms the basis and distinctiveness of his cuisine in the wonderful 5-star hotel Lucknam Park. Since 2004 Hywel Jones has been in charge of the restaurant 'Hywel Jones by Lucknam Park' and 'The Brasserie'. Since that time there has been a precipitous upsurge. In 2007 he was named 'Chef of the year' in the Hotel Catey Awards.
Restaurant Hywel Jones by Lucknam Park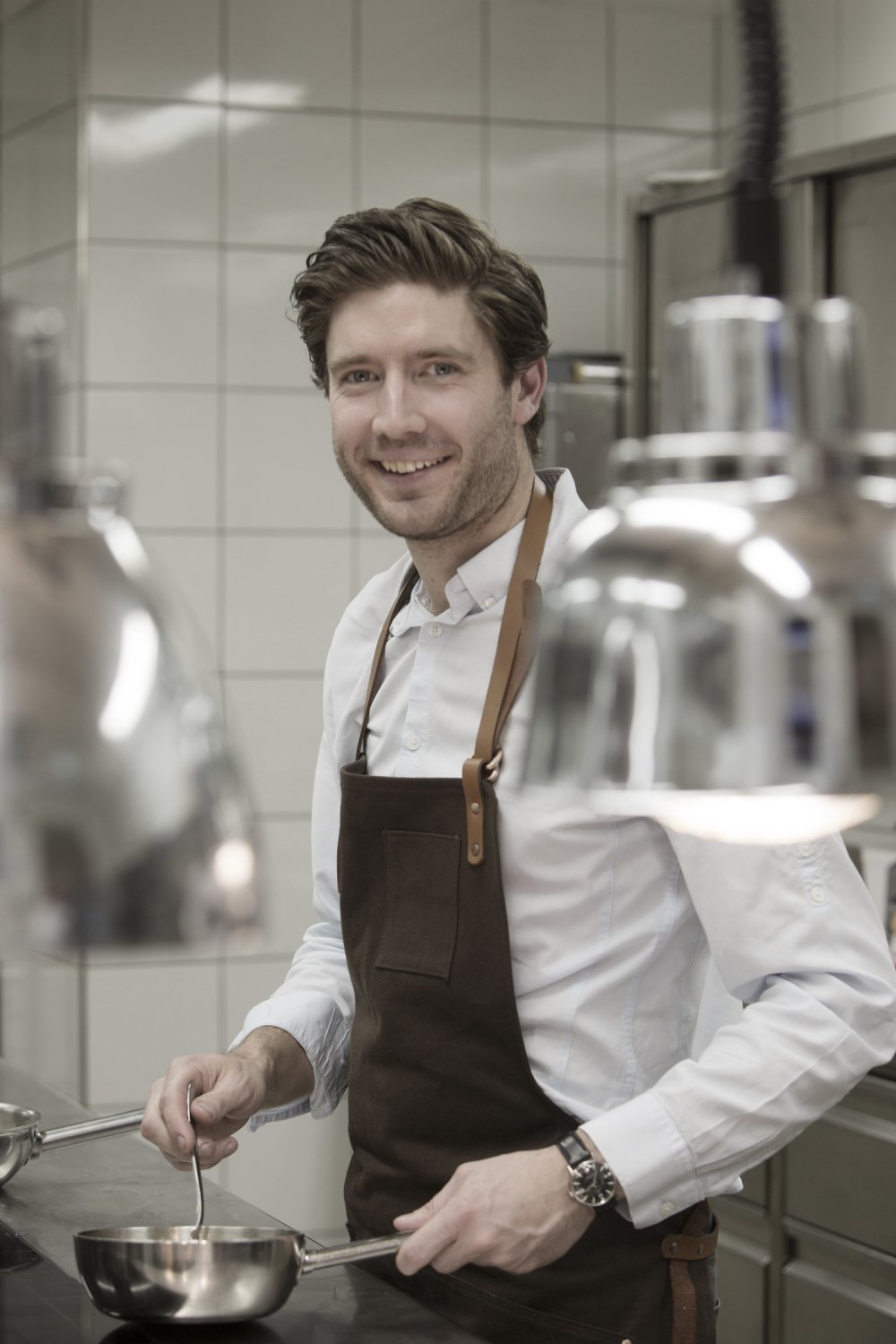 RESTAURANT - HOTEL TANNENHOF / ST. ANTON AM ARLBERG
James Baron
32 year-old English man James Baron has been head chef at the hotel Tannenhof since December 2015 and enthuses with his 3-toque awarded "Creative Alpine Kitchen" creating sophisticated gourmet delights. James Baron learnt his trade in renowned Swiss restaurants and in top establishments abroad and is regarded as one of the 'shooting stars'.
Restaurant – Hotel Tannenhof

3 toques (18 points) from Gault Millau
91 points à la carte Guide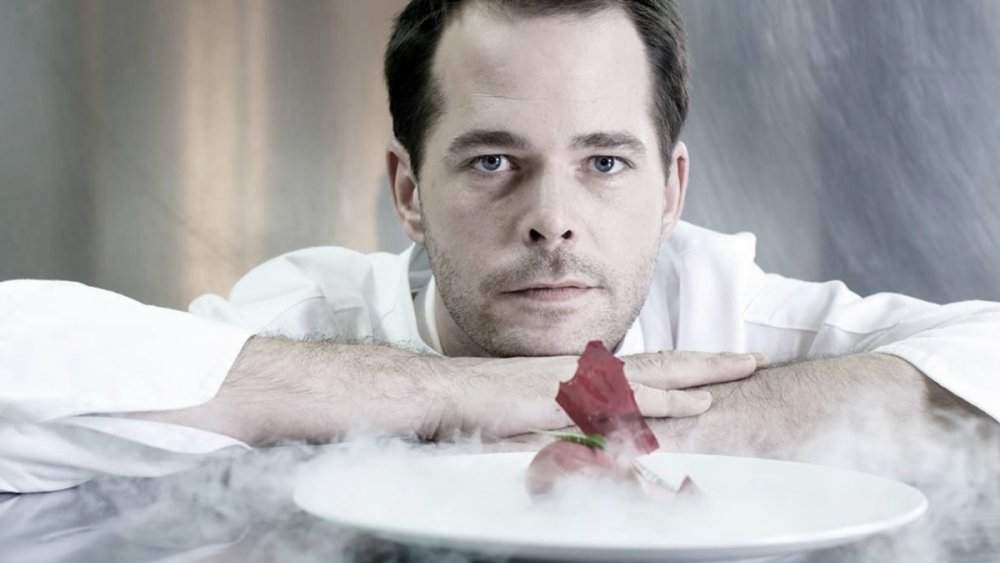 Restaurant Apron / Vienna
Stefan Speiser
Stefan Speiser was in charge of the OPUS Restaurant in the Hotel Imperial for over two years. In this one Michelin star and three Gault Millau toque-awarded restaurant he inspired with his ideas which broke away from the standard flavour combinations. His culinary signature epitomises sophisticated Austrian cuisine taking inspiration from global trends. Upon leaving OPUS restaurant, he now is preparing for the re-opening of the Apron restaurant in Vienna.
OPUS Restaurant

3 toques from Gault Millau & 1 Michelin star
Newcomer of the year 2017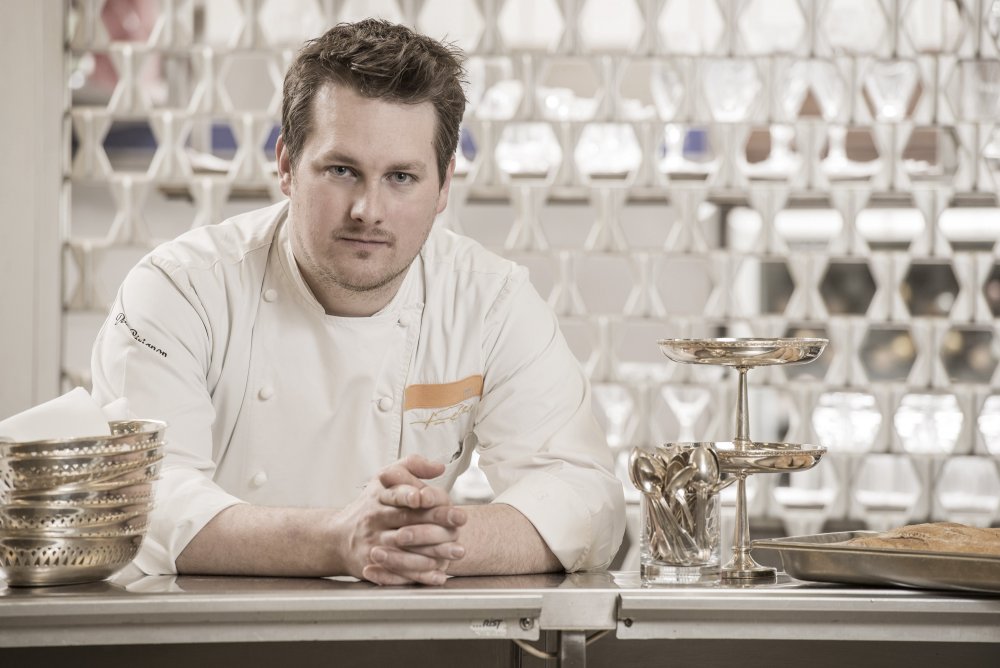 Restaurant Le Ciel / Vienna
Roland Huber
Heinz Winkler had a formative influence on his sense of taste. Heinz Reitbauer spurred him on to creative ideas and Dieter Müller taught him perfection. Roland Huber is one of the top chefs in Austria and in 2008 rightly won the 'Junge Wilde' final. Since 2015 he has been the head chef in the Le Ciel restaurant in Grand Hotel, Vienna, where after just six months he earned his first Michelin star.
Restaurant Le Ciel

3 toques from Gault Millau (17 points)
1 Michelin star




Local products
AT WEIN AM BERG 2018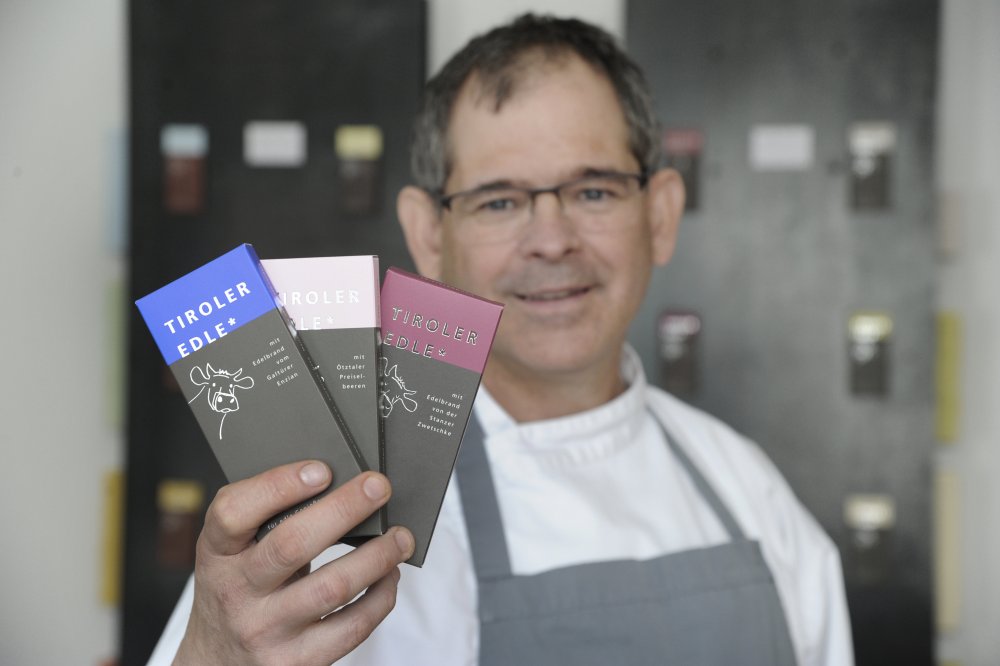 CONFECTIONERY HAAG / LANDECK
Hansjörg Haag
In 2001 agronomist Therese Fiegl took the initiative to make chocolate using the milk and cream from Tyrolean grey cattle. She got passionate confectioner Hansjörg Haag – who learned the special craft of chocolate making in Switzerland and France – interested in its creation. The milk used for TIROLER EDLE comes from Tyrolean grey cattle, a cattle breed that has been in Tyrol for over 3000 years and that is only reared by a few mountain farmers these days. The grey cattle spend the summer months on Tyrol's alpine pastures, where the variety of flowers, grasses and herbs is second to none and which is what makes their milk particularly delicious.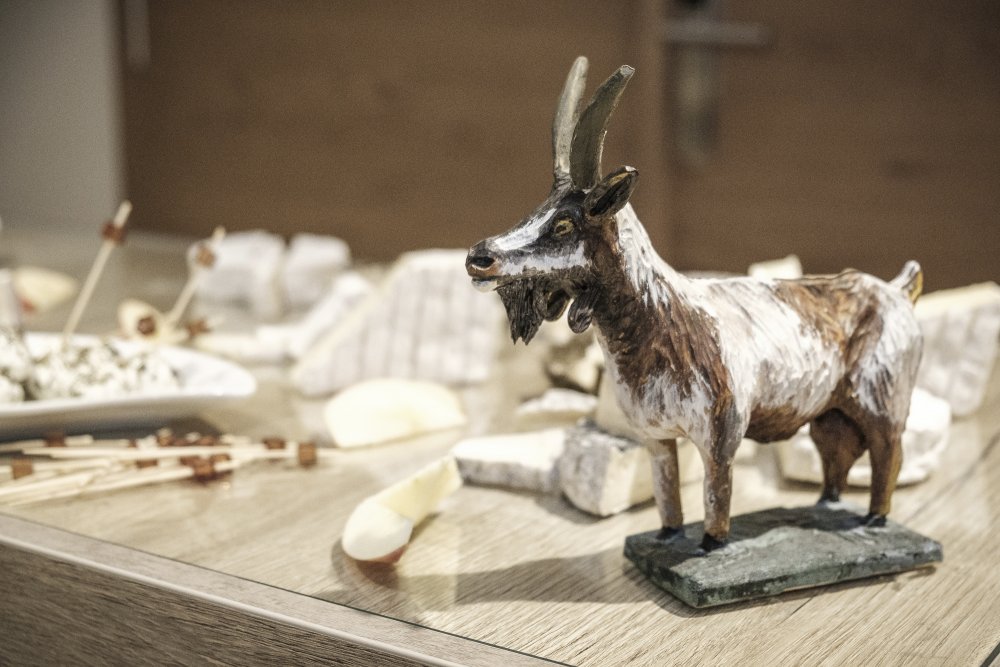 VINTL / SOUTH TYROL
Cheese factory Capriz
In Feinkäserei Capriz almost everything revolves around the goat. Known as "Capra" in Italian, hand-crafted cheese is made from their milk. Cow's milk from the region is used too of course. Working with local farmers and a natural production method, coupled with plenty of instinct, innovation and an eagerness to experiment is the secret recipe for the finest speciality cheeses. The brand embodies the highest quality and regionality – each cheese can be traced back to the pastureland from which it originated.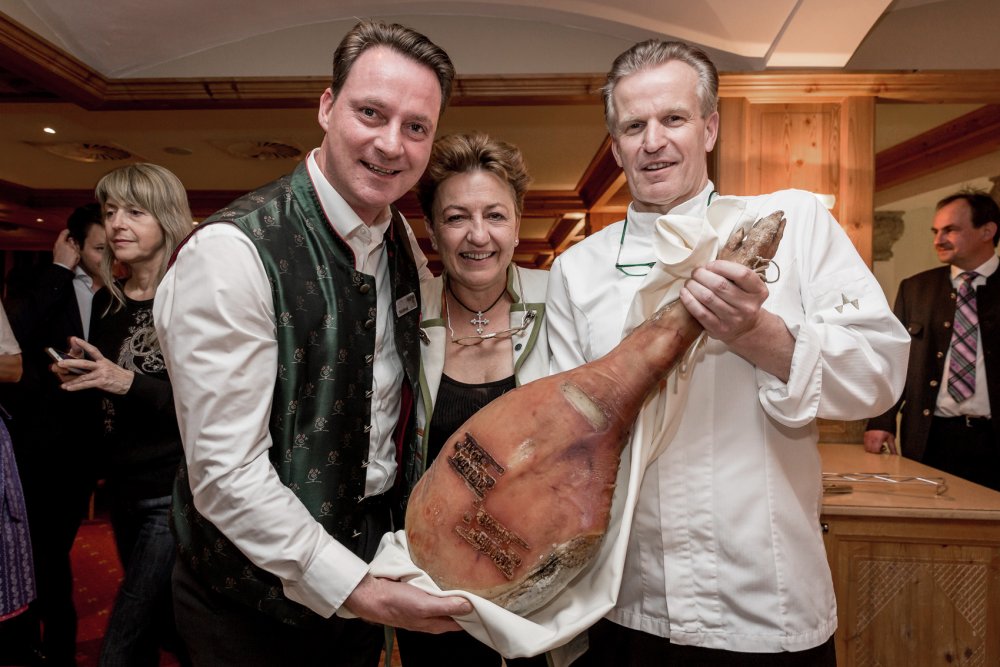 STEIRISCHES VULKANLAND / AUSTRIA
Vulcano ham
Vulcano Schinkenmanufaktur from Styria's Vulkanland is one of the TOP "Genuss" (pleasure) locations in Austria. Set in the midst of rolling hills and a wonderful natural landscape, the finest quality produce is created to realise one vision: "to create the best hams in the world". Vulcano has already received many awards for its products and is known far beyond the borders of Austria as being a world champion when it comes to perfection.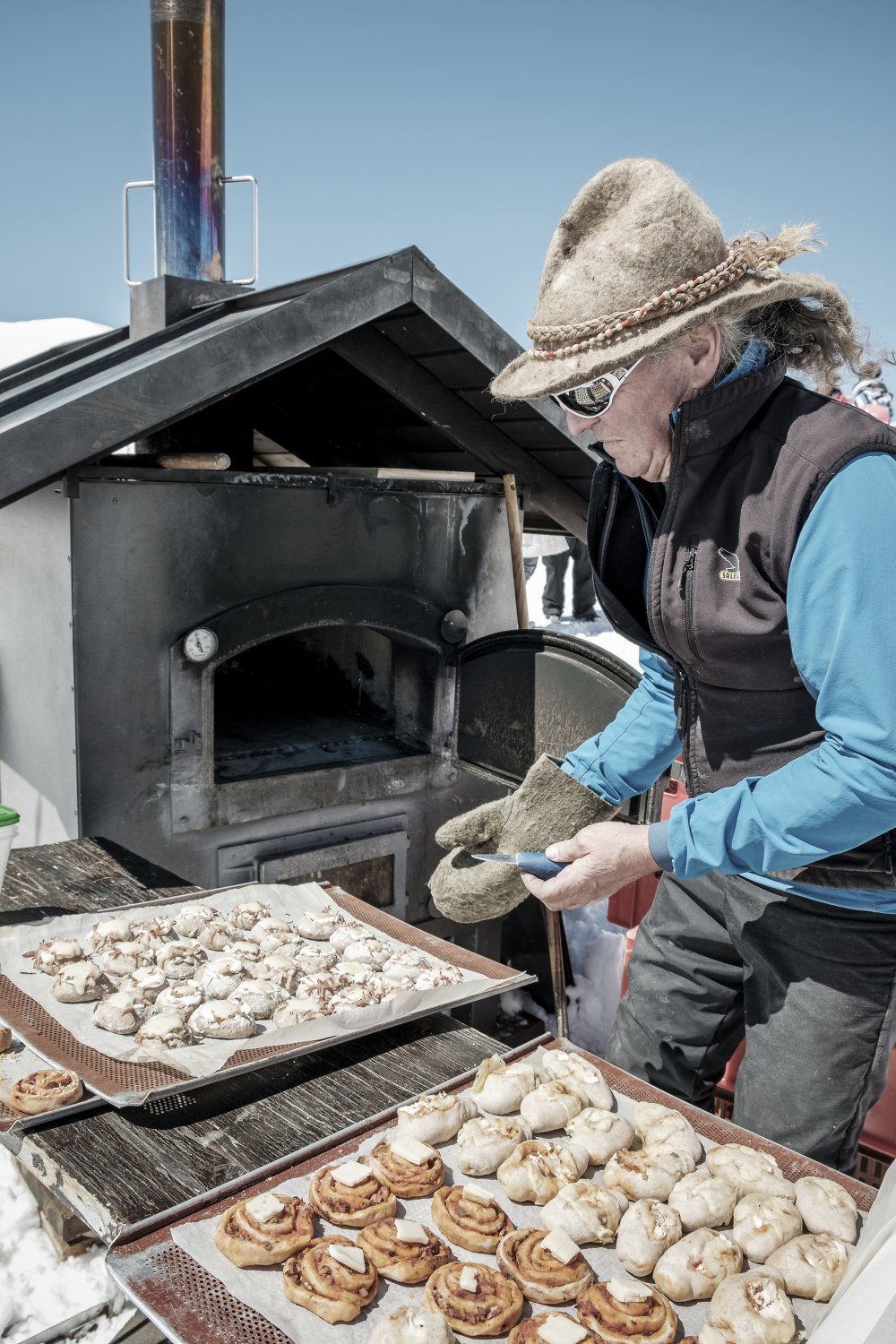 GRINS / TIROL / AUSTRIA
Norbert Ruetz
Tyrolean master baker Norbert Ruetz is known as the legendary "wood-fired oven virtuoso", indeed that is how he made his name. For him, each satisfying day starts with healthy bread. And when every day is fulfilled, then nothing stands in the way of enjoying a fulfilling life. With his mobile wood-fired oven he will once again indulge us with his wonderful speciality breads at our 17th Wein am Berg event on the glacier, at 3000m altitude.